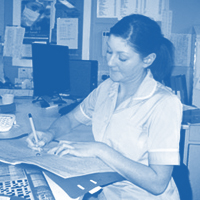 Welcome to
CER Training Limited
We specialise in training and development in the Health Care Industry; delivering bespoke and Nationally recognised training in Health Care, Customer Service, Team Leading, Management and Administration. Over the past three years we have provided services to Primary and Secondary Care in addition to the Private Health Care Industry.
Why choose CER Training?
CER Training is run by two Directors who together have a vast amount of experience in training and the health care profession. We understand the industry and more importantly, we understand you and your needs. We work in and fully comprehend the pressures and constant changes in Primary and Secondary Care which is why our programmes are as flexible as possible; maximising learner and employer satisfaction and achievement.
CER Training also works hard to develop links with other agencies in the Health Care profession such as the Royal College of Nursing and Institute of Healthcare Management; enabling us to keep abreast of new initiatives and development opportunities. This may relate to memberships, resources, networks and forums that benefit both the learner and their health care organisation.
CER Training is able to secure Government funding through the Train to Gain initiative. Our customers incur no costs for our bespoke training when this accompanies these nationally certificated qualifications.